Lufthansa back in the profit zone
Sat 16th Jul, 2022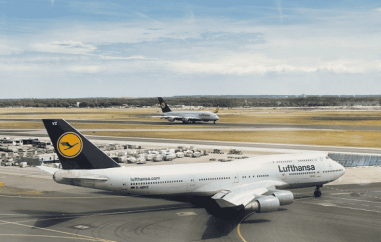 The Lufthansa Group flew back into the profit zone in the spring. The still very lucrative cargo business and the maintenance subsidiary Lufthansa Technik lifted adjusted Group earnings before interest and taxes to 350 and 400 million euros, respectively, with their profits (same period last year: minus 827 million euros), the company reported in a mandatory announcement to the stock exchange on Friday. Sales climbed to 8.5 billion euros in the second quarter of the year, compared with 3.2 billion euros in the same quarter last year.
The group's airlines posted losses despite higher load factors and rising ticket sales. The only exception here was Swiss, which was unable to pull the segment out of the red on its own. Load factors were very high, especially in the premium classes, the Group said. The contribution from engineering was put at a similar level to the previous quarter, when an operating profit of 120 million euros was reported for the subsidiary.
Continued high demand for tickets since Easter flushed significant cash into the coffers. On a preliminary and unaudited basis, cash inflow was around 2 billion euros (prior-year quarter: 382 million euros). As a result, net debt will decline by a similar amount, the M-Dax group expects.
Analysts polled by Lufthansa had on average only expected an adjusted EBIT of 221 million euros. The Lufthansa share price rose significantly following the news. The Group plans to publish its final quarterly figures on August 4. Lufthansa last reported an operating profit in the third quarter of 2021. However, the company remained in the red below the line in the quarter as well as in the full year 2021.


Image by Mathew Browne