Inflation in Turkey rises to almost 70 percent
Fri 6th May, 2022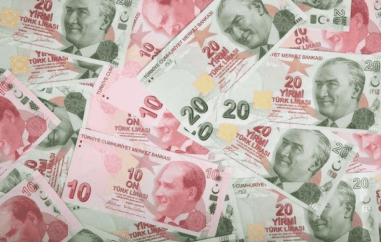 Inflation in Turkey continues to rise at a very high level. In April, consumer prices rose by almost 70 percent compared to the same month last year, as the statistics office announced in Ankara on Thursday.
In March, the inflation rate had been around 61 percent. By comparison, the German inflation rate in April was 7.4 percent, which is the highest level since 1981. On a monthly basis, consumer prices in Turkey rose 7.25 percent in April.
Producer prices show just how significant the price pressure is at upstream economic levels. They rose by a good 121 percent in April compared with the same month a year earlier, compared with just under 115 percent in March. Producer prices are therefore more than twice as high as a year ago. Producer prices generally influence consumers' cost of living indirectly and with a time lag.
Weak currency, low interest rates, Ukraine war: These factors influence inflation.The inflation rate in Turkey is driven by several factors. For some time now, the weak national currency, the lira, has been driving up prices considerably, as this makes goods imported into Turkey more expensive. In addition, there are considerable problems in the international supply chains, which are making primary products more expensive.
The prices of many raw materials are also rising, not least because of the Russian attack on Ukraine. Prices in the Turkish transport sector - which includes gasoline, for example - rose particularly sharply by 105.9 percent.
Economists expect inflation to remain exceptionally high until the end of 2022 due to the Ukraine war: Economists polled by Reuters expect an average inflation rate of 52 percent for the year.They blame the decline in the lira for this. This was triggered by interest rate cuts by the central bank, which made the national currency less attractive for investors. President Recep Tayyip Erdogan calls himself an "enemy of interest rates. He wants to stimulate the economy with low interest rates.
The government has said that inflation will fall as part of its new economic program. This envisages low interest rates to boost production and exports.The central bank has kept its key interest rate stable at 14 percent in four meetings so far this year. Yet, according to most economists, it would have to raise interest rates to make the currency more attractive.The lira has lost 44 percent of its value against the dollar in the past year. The central bank expects inflation to peak in June. It does not expect single-digit inflation rates until 2024.